Design Thinking is a powerful tool and process giving all participants to contribute ideas, rationale ideas, and conceptualize a solution.
I've been practicing design thinking since 2016 with organizations such as Huge, AIGA national teams, and AIGA local chapter. I also use design thinking frameworks in mentoring an emerging designer. 
​​​​​​​
Roles:
 Practitioner, Design Lead, Mentor, Facilitator 
Certification:
IBM Enterprise Design Thinking - Practitioner.
Badge
Problem – The issue is for young designers entering the design profession. They are honing new skills, networking, and making thoughtful career decisions. Those freshly graduated young and transitioning professionals often disconnect from AIGA at a key moment of their career, when membership value seems key.
Team – 2 co-founders/organizers, 7 workshop facilitators, 19 workshop participants, 3 contributors, 16 development team members, 31 chapter/D&I Task Force leaders (representing 27 chapters), 20 Awareness Week programming locations, 9 core team members, 3 HQ staff members supporting.
Solution – AIGA EMERGE 2.0. The first iteration was in 2016 with 8 AIGA chapter participation. After AIGA EMERGE received a grant in 2017, the initiative's president revamped the initiative by including Diversity & Inclusion Taskforce and AIGA chapters leaders. 
The goal is to grow and expand AIGA EMERGE, providing engaging experiences that demonstrate the value and benefits of being an AIGA member to those we have not reached. For AIGA chapters leaders, provide materials and resources they can use to engage with their community emerging designers. 
My role was a design thinking practitioner, facilitator, and brand design lead. 
The project begun in the fall of 2017 and we were a fully remote team utilizing Zoom, Slack, and Mural as our collaboration tool. There were three activities: Pre-Work, two Design Thinking workshop for user empathy mapping, scenario map pain-points, ideation, prioritization mapping, and 30/60/90 days roadmap for big ideas. 
During this Discover phase, small teams in this committee first met about their hope and fears for this initiative and user research emerging designers of their assigned persona.
In the first design thinking workshop, we shared our findings, hear other team findings, and placed them in Say/Think/Feel/Do, and Doing/Thinking/Feeling diagrams. We then pull the pain points we found through research findings.  The homework was to challenge our assumption and focus on the real challenge. 
In the second workshop, we then ideate on the pain points to identify opportunities to help our audience. We then performed a prioritization mapping exercise charting the impact, importance, feasibility of ideas generated. Ideas that felt the strongest, we broke them down into steps to how to execute them through a 30/60/90 roadmap.
Play press below to view a snapchot of the design thinking workshop time lapse. 
After the Discover phase, we had a list of a lot of key learnings of big and small ideas for AIGA and their chapters. Ideas from building a mentorship program, events on accessibility, diversity & inclusion training, and more. 
Next, we built three teams to focus on certain aspect of the AIGA EMERGE initiative. The three teams were branding, playbook content, and playbook design team. Each team had to determine their own schedule, priorities, and present progress in weekly meetings. 

The Playbook was the handbook that all 70+ chapters could use. This went beyond a brand guideline, it was a field guide to create inclusive programming; virtual and in-person, and  activation to engage with their community. 

Branding team were responsible to the brand refresh, guidelines, and providing source design materials to AIGA chapters leaders. 

Playbook Content team focused on the voice of AIGA EMERGE  in writing, instructions, and example programming  going inside the playbook. 
Playbook Design team is an additional design team taking the branding works and apply it to the new website, and work with AIGA National to update their content. 
The previous brand identity used a halftone and CMKY print treatment for all of the visuals. This aesthetic felt it only target print designers and made itself less accessible and appealing to non-print designers . It had to be redesigned to reflect the array of design disciplines and the diverse emerging designers that work in the industry. 
I serve as the Branding Lead for this initiative.
Harkening on the personalization of the digital age, the rebrand was focused on being people-forward. We spotlighted emerging designers, leaders and the design community writ large, showcasing the diverse voices within the industry. This was paired with an overlay of branded gradients to reflect career growth, along with a set of textures as "radiants" projected from the main figure in each EMERGE picture. At the end of the project, our brand guidelines and assets were made into open source documents so that they could be accessed by AIGA chapter leaders across America.
After over a year of works. The AIGA EMERGE team presented the works at a National Board Retreat to hundreds of AIGA chapters leaders. We provided the swag they could give away and performed a design thinking workshop to think of programming and content for their emerging designer. 
I played the role as a facilitator of a group to help chapters leaders to empathize with their emerging designers community and produce a 30/60/90 roadmap for strong ideas. Those ideas by all groups were collected and used as content in the playbook for chapters to use for their community.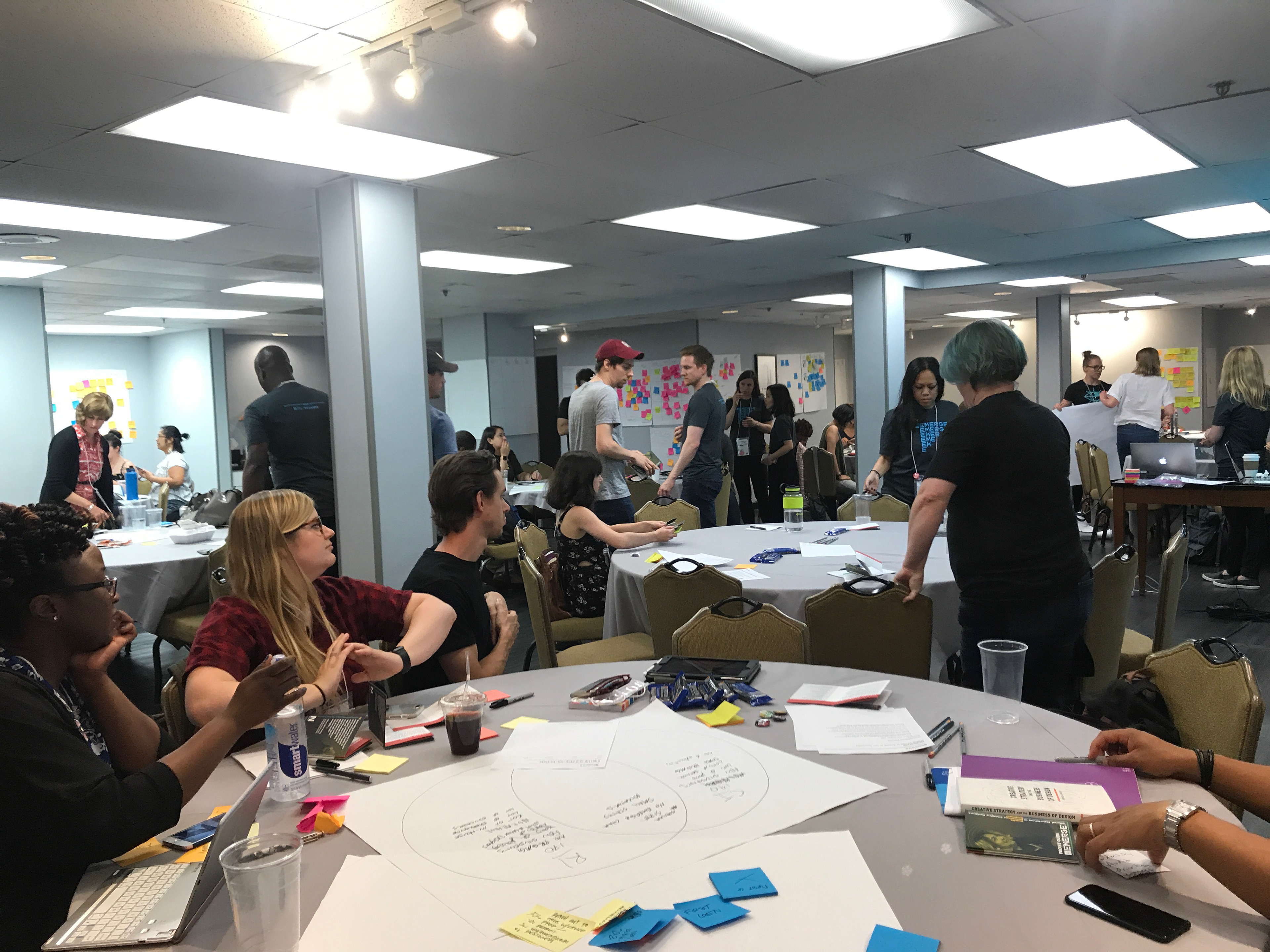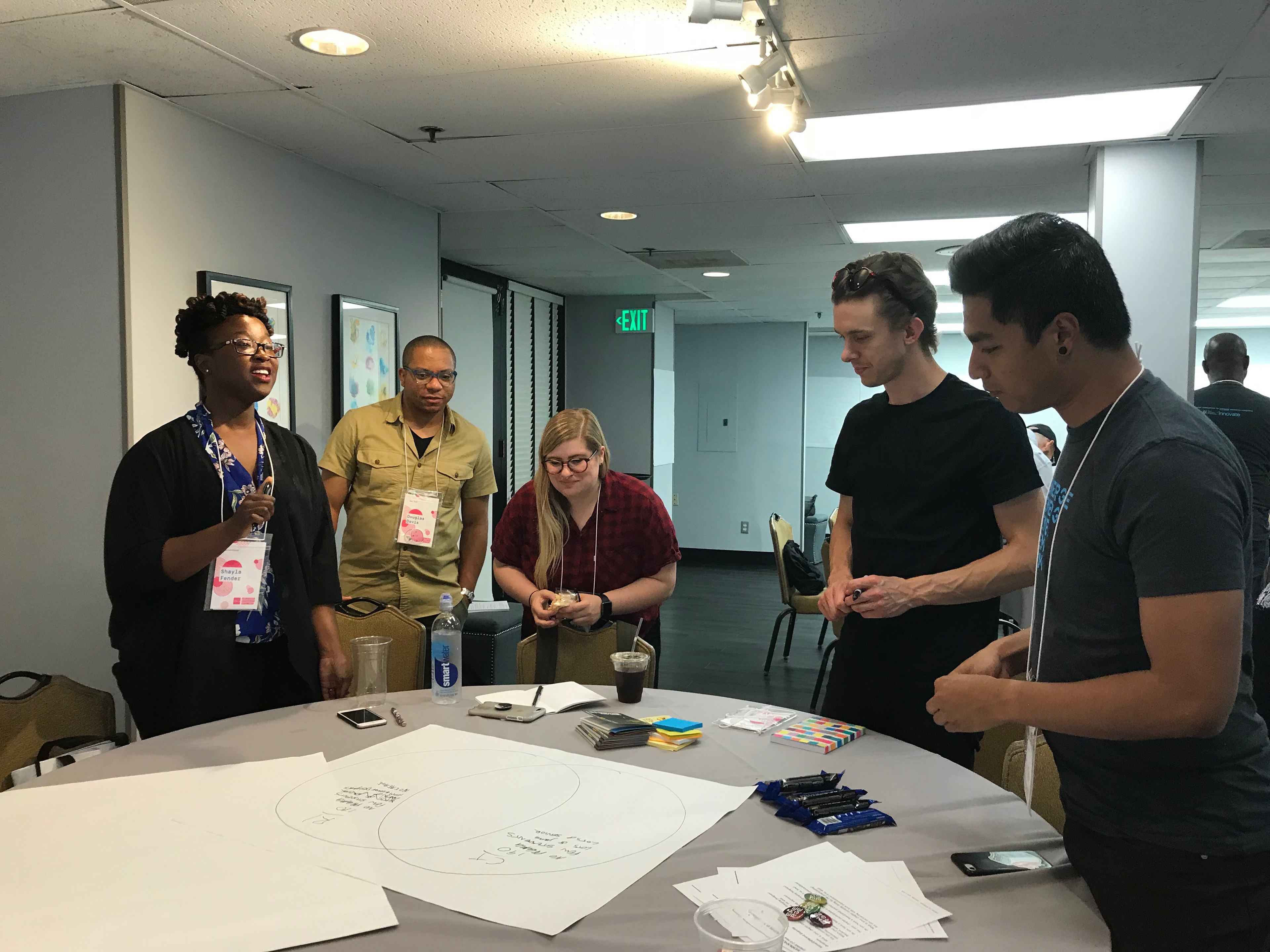 As part of this journey, participants convened using several online collaborative tools, participating in a remote and in-person hands-on design thinking workshop series, integrating IBM's enterprise design-thinking curriculum. The team invested ​​​​​​​
10,528 hours to this initiative. 
Chapters across the US used the AIGA EMERGE brand identity for their events and despite by apart, they were connected and elevated their diverse, emerging designers voices. Between May 2018 to January 2019, the website visit was a total of
13, 405
. More than
1 million total impressions
across social media platforms; Facebook, Linkedin, Instagram, and Twitter. 
A Bill You Can Understand" Design and Innovation Challenge
An open design competition dedicated to helping patients in the U.S. health care system understand their medical bills and the financial aspect of health. Design a medical bill that is easier to understand, as well as reinvent cost of care estimation and the medical billing journey with the goal of improving the patient financial experience.
On a small team of four, we created a proposal to reduce the amount of interaction between different point of contacts and presented a better-timed information to patient. Through white-boarding session and remote collaboration, we mapped out the patient and billing journey to find pain points. 
The proposed solution was an improved search for doctors, an online experience of your medical information, mobile check-in at the hospital, and a smoother billing process after a doctor's visit by giving patient a bill immediate after a visit in print and digital form.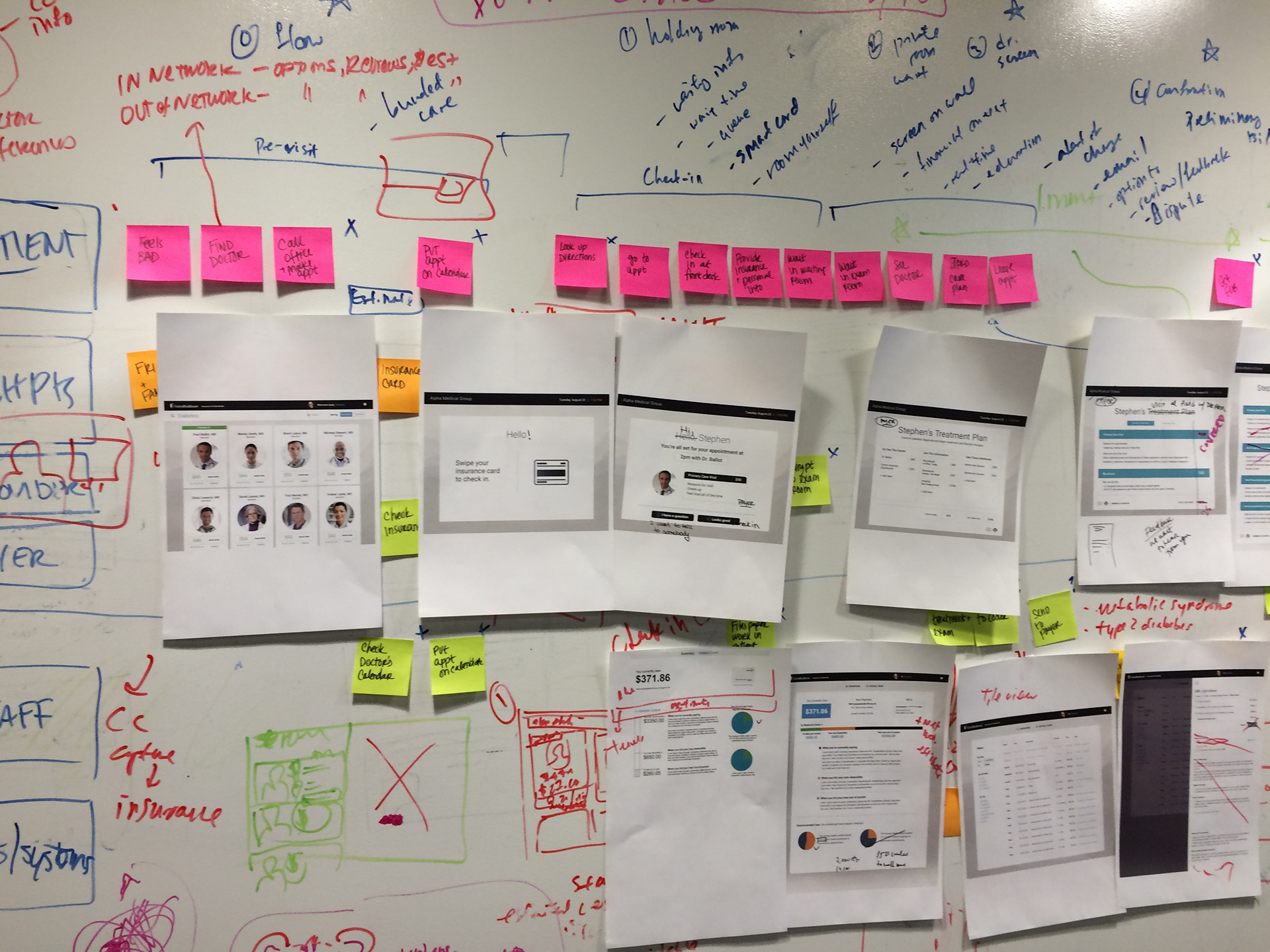 Annually before the chapter enters their next year of community programming and engagement. The board of directors meet for a retreat to define new goals, objectives, and a roadmap of how we will serve the design community. 
During the retreat, we use design thinking methodologies such as Think/Says/Does/Feels and prioritization mapping to understand the community members and chart what we want to accomplish for the design community.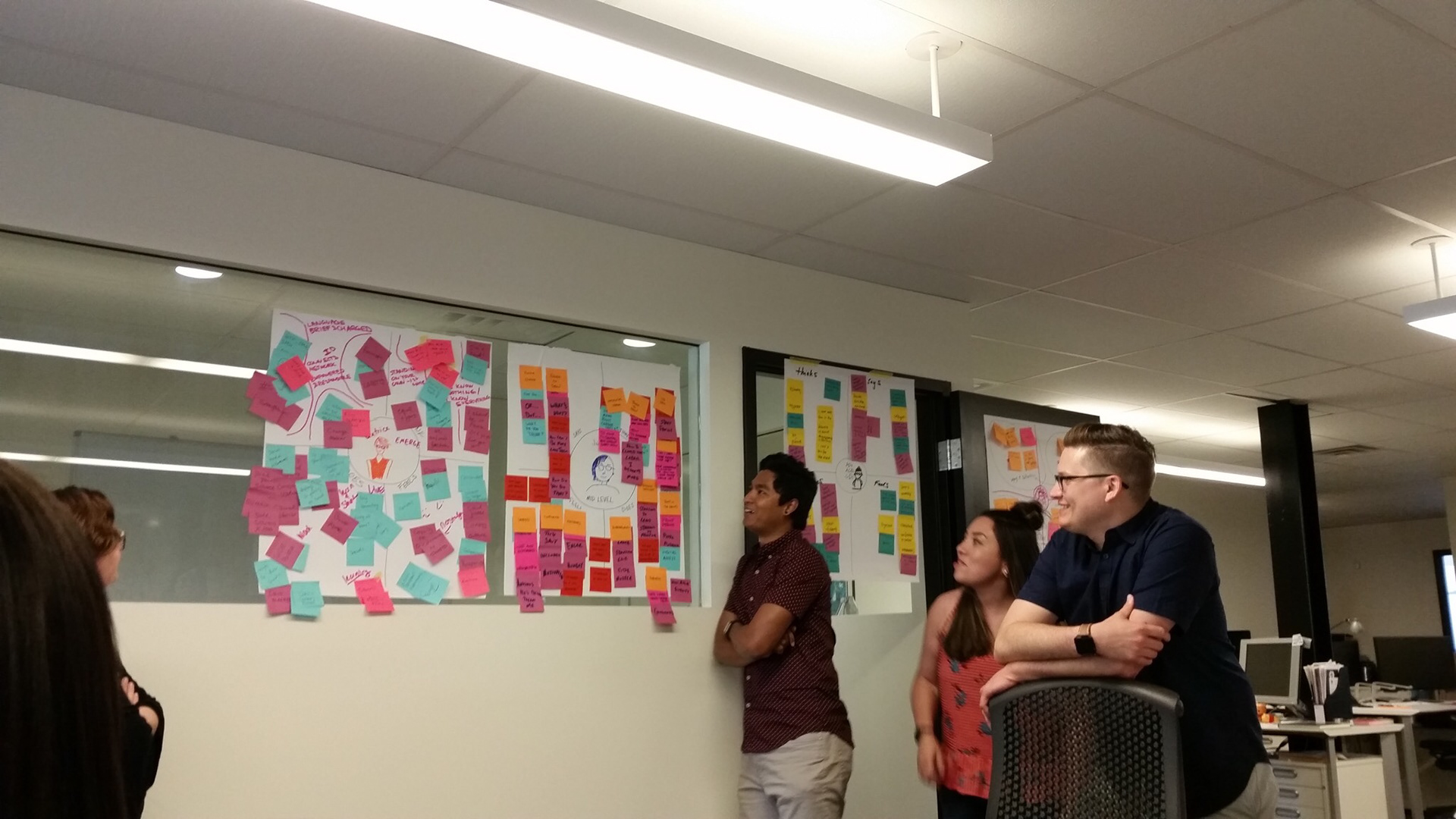 AIGA DC has partnered with other companies and lead design thinking activities with the local design community. My role was to be a facilitator to inspire ideas and steer the conversation with participants. We used design thinking to understand what the community wants from the organization, a medium of how design can be an impactful tool to solve problems, and defining the project management process.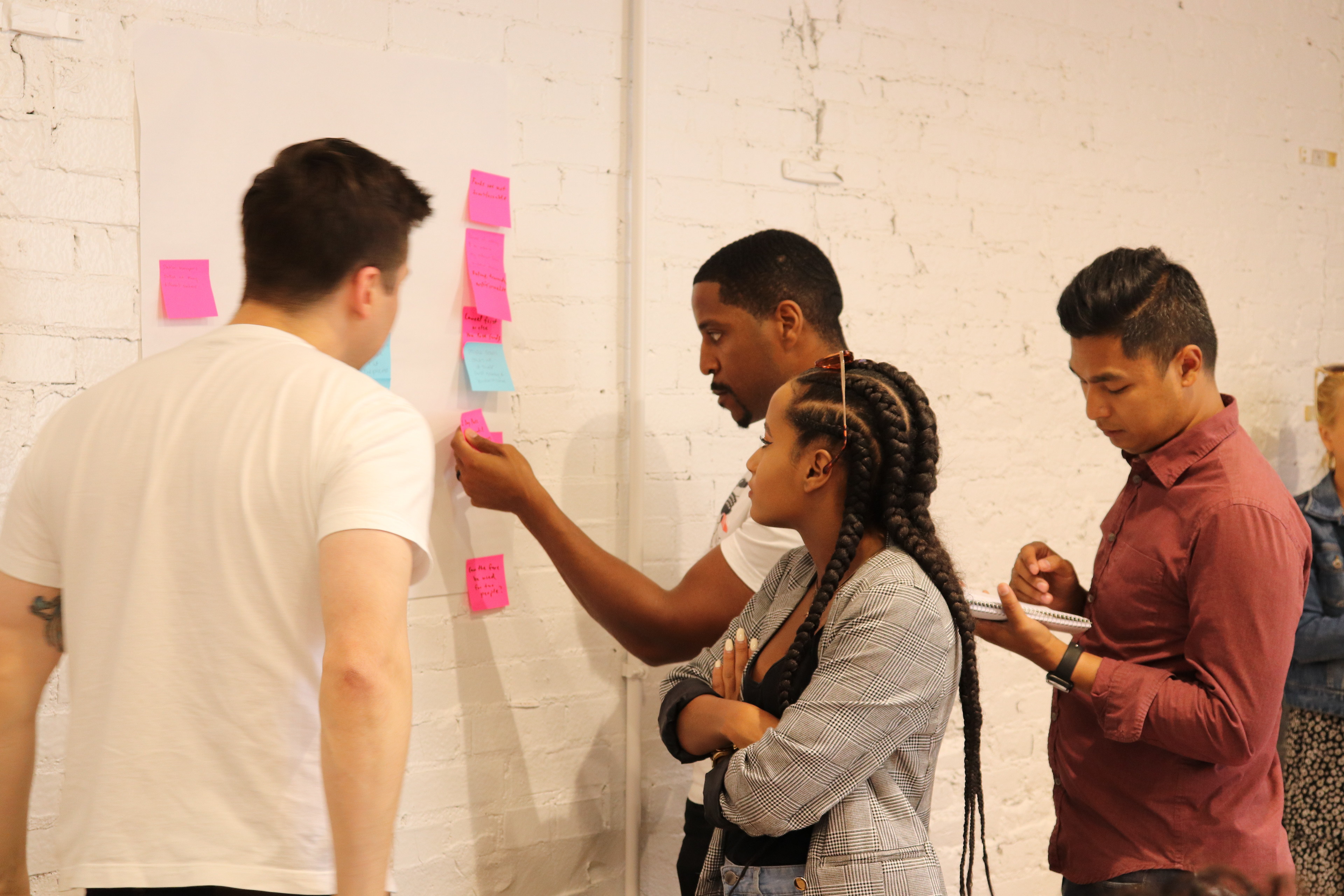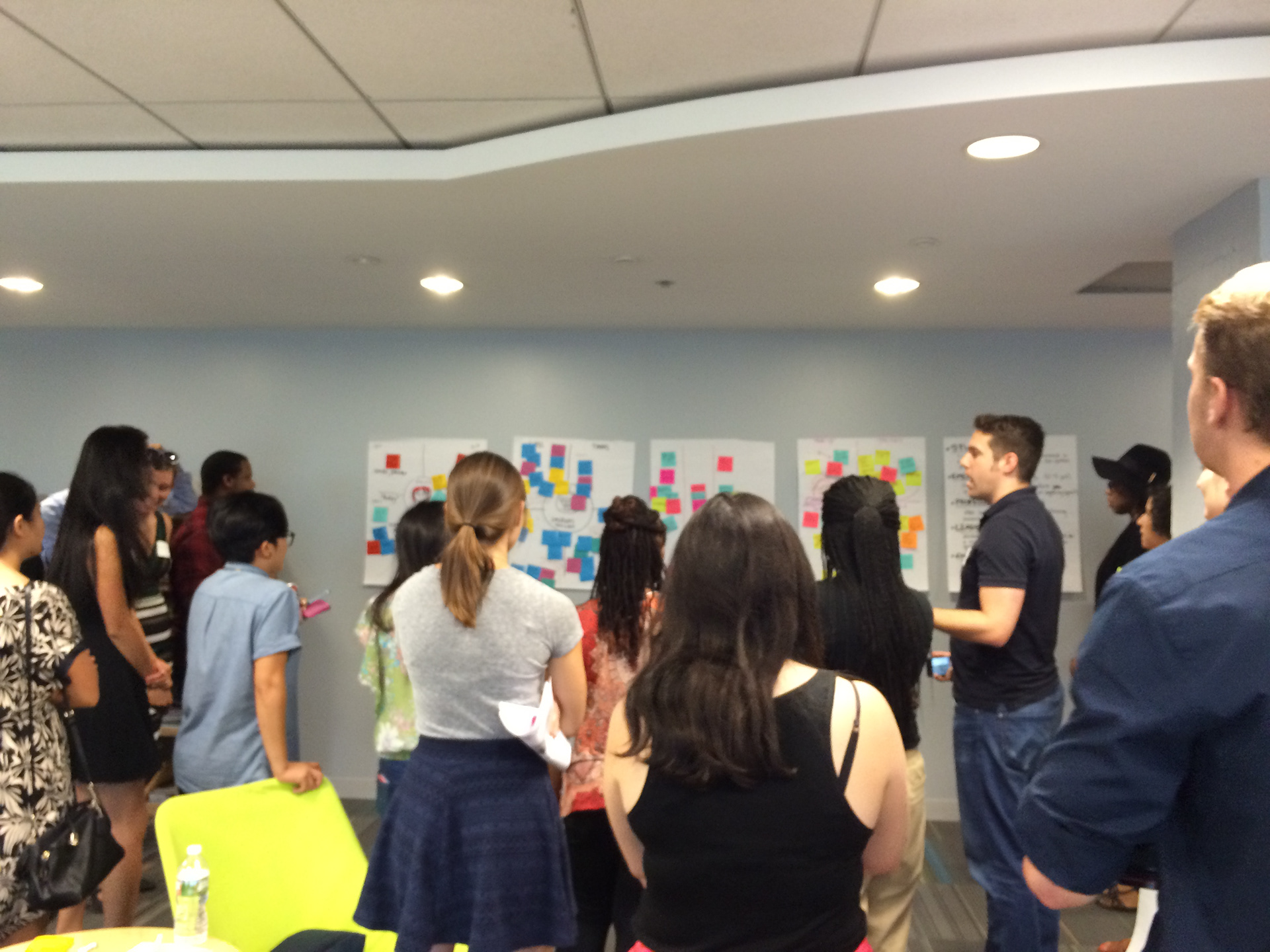 I am a design mentor to a young emerging design through The SEAD Project based in St Paul, MN. It has been a rewarding journey to foster a relationship with a young designer and figuring out how I can make him successful. 
On this mentorship journey, I teach best practice of the design industry, how to build a portfolio, and meet professionals from the industry. I apply several frameworks to help us set his goals, create objectives, and plan action items for him. 

Our Goal Framework comprise of the GROW Model and a 30/60/90 mentorship roadmap. 
GROW is Goal, Reality, Options/Obstacles, and Will. This helped us analyze his current circumstances and great a game plan of how to mitigate those obstacles. Through the Options/Obstacles and Will columns.
The notes from the Will column are used for the 30/60/90 roadmap by turning big Wills into small feasible actions to accomplish over time. Through a Google Sheet, we're able to meet remotely and keep this file up to date and track his progress.